Carpet, Tile & Grout Cleaning Services in Clarksburg
Imagine walking into a house or workplace with spotless carpets, gleaming tiles, and grout that appears brand new. Hydro Clean Certified Restoration's skilled carpet, tile & grout cleaning services help to make this vision a reality. Our team of professionals is ready to breathe new life into your rooms, whether your carpets are showing signs of wear, your tiles have lost their shine, or your grout lines have grown discolored.
Our innovative cleaning procedures get deep into the fibers to remove even the most stubborn stains, leaving your carpets fresh, silky, and allergen-free. On the other side, by revitalizing your tiles and grout, we can improve the overall appearance of your room while also helping to extend the life of your flooring. Our certified team in Clarksburg is here to assist you in keeping your house healthy. Make an appointment for carpet, tile & grout cleaning right away to start breathing easier and get a clean surface by contacting us or calling us at 410-505-7879. Additional services we offer are:
Benefits of Professional Carpet, Tile & Grout Cleaning Services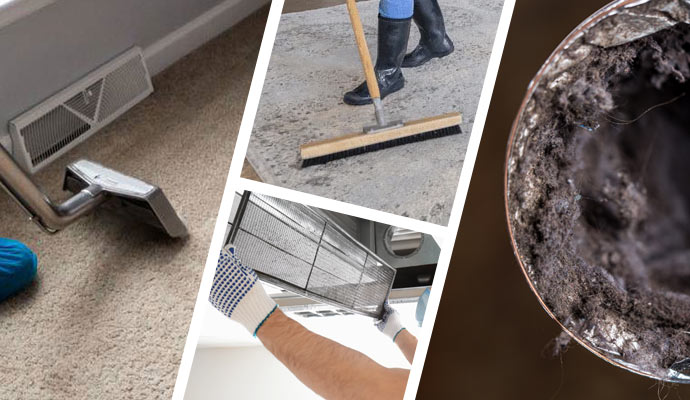 Enhanced Hygiene: Cleaning removes dirt, germs, and allergens, promoting a healthier indoor environment.
Improved Air Quality: Cleaner carpets and tiles contribute to better indoor air quality by reducing airborne particles.
Longevity: Regular cleaning preserves the life of carpets and tile surfaces, saving you from premature replacements.
Reduced Allergens: Cleaning minimizes allergens like dust mites and pollen, benefiting those with allergies.
Prevention of Damage: Cleaning prevents dirt from wearing down carpet fibers and tile surfaces.
Why Hydro Clean Should Be Your First Choice?
Hydro Clean is the correct company for your carpet, air duct, dryer vent, rug cleaning, and emergency restoration requirements in Clarksburg. We call ourselves the best because:
We provide our clients with the highest quality services.
Experienced over 30 years.
Offer competitive pricing. View our special prices here.
Our team is kind, knowledgeable, and diligent.
Certified by NADCA.
IICRC certified professionals. View more of our awards and affiliations here.
Click here for a fast, free estimate
Contact Us for Emergency Restoration in Clarksburg
We at Hydro Clean are dedicated to providing the best emergency restoration services to our customers. We're here to help you 24/7. We work closely with your insurance company. To learn more about our emergency restoration services contact us or dial 410-505-7879 right now.
Request A Free Cleaning Estimate Today