Professional Mattress Cleaning In Baltimore, Annapolis & Columbia, MD
A clean mattress is necessary to get a good sleep. A mattress is a piece of furniture that is used for more than eight hours a day. It is exposed to our bodies' sweating and oil, as well as other body fluids. If you have pets, they may leave filth behind, and food spills and stains are common for nighttime snacks. In addition, our bodies produce dead skin cells, which attract and feed dust mites that flourish in the mattress.
With our advanced methods, we will make sure your mattress is thoroughly clean and fresh-smelling. We use sophisticated techniques to remove stains and make your mattress dust-free. In addition, the services we provide are quick and efficient - so we will have your mattress ready for you whenever you need it
Call us today at 410-505-7879 to know more about our service with free estimates!
Benefits Of Hiring Professional Mattress Cleaning In Baltimore, Annapolis & Columbia, MD
Even if you aren't aware of it, your mattress will surely accumulate dust over time. You may eventually realize that your mattress stinks or that you have allergy responses while near your bed. This might make the room that is intended to be the most relaxing in your house the least relaxing.
Cleaning your mattress will make it more comfortable and will allow it to last longer. Here are some reasons why you should hire professionals that understand how to clean a mattress.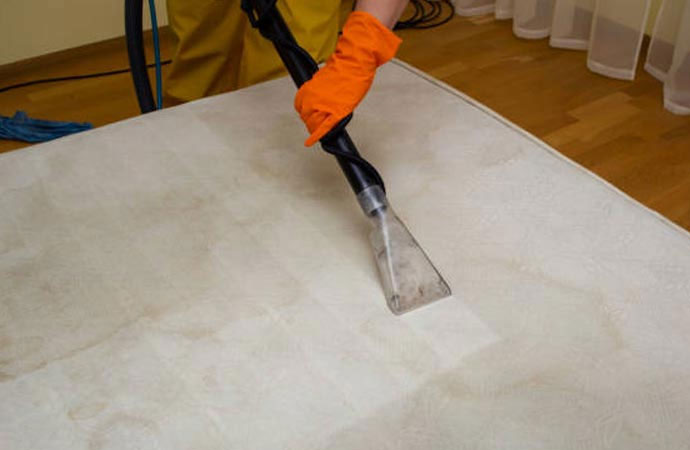 Healthier Indoor Air Quality: One of the biggest contributors to contaminated air within a room is a dirty mattress. It's simple to understand how your mattress may contaminate the air surrounding it when you consider how much perspiration, dust, oil, and shed skin it collects. The room begins to stink, and you'll be inhaling whatever is on your filthy mattress. The major advantage of getting your mattress cleaned is to improve the air quality in your house immediately. It eliminates biological pollutants from a filthy mattress as well as unpleasant smells that might disrupt your sleep.
Reduction of Allergy & Itching Problem: If you're continuously itching or blowing your nose with tissue paper, it would be difficult to sleep at night. Dust and fungus can cause allergies, which can interrupt your sleep and make your mattress difficult to use. Cleaning your mattress reduces the risk of allergies, itching, and prevents certain illnesses by getting rid of harmful bacteria.
Proper Removal of Stain: Some stains are difficult to remove from the mattress. This might be due to a variety of factors, including the use of subpar equipment, low-quality cleaning products, or a lack of experience. Long-lasting stains will eventually make your mattress look old and cause the damaged area to deteriorate and worn out over time.
Mattresses with a Longer Lifespan: If you want your mattress to survive for years, it must be cleaned regularly. Cleaning your mattress through professional completely will help to prevent wear and tear on the linings as well as the cover. Mattresses with ripped casings are more likely to be damaged, exposing the pad and inner springs and leading them to wear out faster. To avoid this, contact us to keep your mattress clean to extend the lifespan.
Saves the Equipment Purchase Cost: Buying cleaning equipment and supplies and performing the work yourself is the only alternative other than hiring a professional mattress cleaning service. It would result in incurring needless expenditures since you would purchase equipment that you would not utilize every day. It would be more cost-effective to hire a cleaning professional like us.
Rely On Us For Best Mattress Cleaning In Baltimore, Annapolis & Columbia, MD
If you need your mattress cleaned in Aberdeen, Baltimore, Belcamp, Cabin John, Crownsville, Dhs, Essex, Fork, Greenbelt, Hampstead, Laurel, Pasadena, Savage, Taneytown, Windsor Mill, White Hall, Towson, Upperco, West River, Whiteford, Hydro-Clean is here to provide the best service, for an affordable price.
We use advanced steam cleaning methods, and have skilled technicians, to get your mattress clean, odor-free, and protected from stains and dirt. You can also contact us for Rug Cleaning, Carpet Cleaning, Air Duct Cleaning, Tile & Grout Cleaning, Pressure Washing, Emergency Restoration, Commercial Cleaning and Disinfecting Services.
Contact us today to learn more about our marble cleaning services at 410-505-7879 or contact us online.
Request A Free Cleaning Estimate Today