Ceramic Tile & Grout Cleaning in Baltimore & Columbia, MD
Is your home in desperate need of ceramic tile and grout cleaning in Baltimore, Maryland, Columbia, or Clarksville areas?
Hydro Clean has been in the business of providing top of the line tile and grout cleaning services to Maryland homes and businesses since 1986. Our carpet and tile cleaning professionals are professionally trained and will leave your tile floors sparkling clean. Give us a call at 410-505-7879 and we will be happy to schedule your tile cleaning at your convenience.
Click here for a fast, free estimate
The Importance of Clean Ceramic Tile Grout
As the demand for tile and grout floors in homes increases, more and more customers are realizing how frustrating it can be to keep these surfaces clean.
That's because grout is porous. Any dirt left on the grout for too long has a good chance of penetrating through to the interior, making cleaning even harder. Combine grout's porosity with the fact that it's commonly used in high moisture rooms (kitchens and bathrooms) and you have a recipe for mold.
Because of the harmful effects mold can have on you and your family, it's important that you take action against dirty grout immediately by hiring a professional tile grout cleaner.
Our trained IICRC certified technicians can quickly and safely clean the most stubborn tile and grout surfaces in any home. In addition to our tile and grout cleaning, Hydro Clean also offers a wide variety of tile and grout sealers to help protect your tile and grout once the job is done.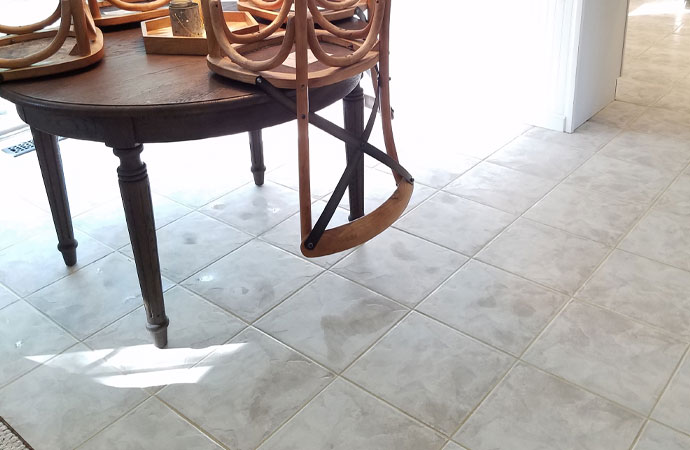 Professional Cleaners Use Professional Grout Cleaning Equipment
At Hydro Clean, we use state of the art floor cleaning equipment, including the SX-12 and SX-7 tile cleaning tools. Our cleaning equipment operates at more than 1,000 pounds PSI, which is powerful enough to eliminate dirt and debris, but safe enough to clean even the most delicate tile and grout surfaces.
We utilize powerful truck-mounted equipment for several reasons. One, keeping the equipment in our truck allows us more working space in your home while also minimizing the possibility of a mess in your home. Two, the equipment mounted in our trucks is much more powerful at cleaning grout stains than anything we could bring inside your home.
After the dirt and build-up are removed from the surface of your tile and grout with our powerful truck-mounted equipment, they are immediately extracted and disposed of. When we leave your home, we leave nothing behind except your beautiful clean tile floors.
Contact Hydro Clean for Tile Floor Cleaning in Columbia & Baltimore, MD
Stop worrying about your dirty and stained grout making your home look unkempt. Contact us at Hydro Clean today at 410-505-7879 and speak with our Maryland ceramic tile and grout cleaning specialists.
Since 1986, Hydro Clean has been providing Maryland residences and businesses with essential cleaning services ranging from power washing pavement to cleaning your carpets and everything in-between. Tell us your situation and let us help you make your home look and feel great!
Request A Free Cleaning Estimate Today