Rug Cleaning Process in Baltimore & Columbia, MD
For years, Hydro-Clean has provided the widest array of rug cleaning products and services in Maryland to make sure the rugs in your home or office reflect a striking impression on the surrounding. Our rug cleaning specialists are trained with advanced cleaning techniques that complement the quality of your rug fibers. We custom-tailor our cleaning process for different types of rugs we clean including rugs made of cotton, silk, or wool materials.
We are proud to be serving in Aberdeen, Annapolis, Manchester, Chevy Chase, and more cities throughout our Maryland service area. Avail of the following benefits when you work with Hydro-Clean: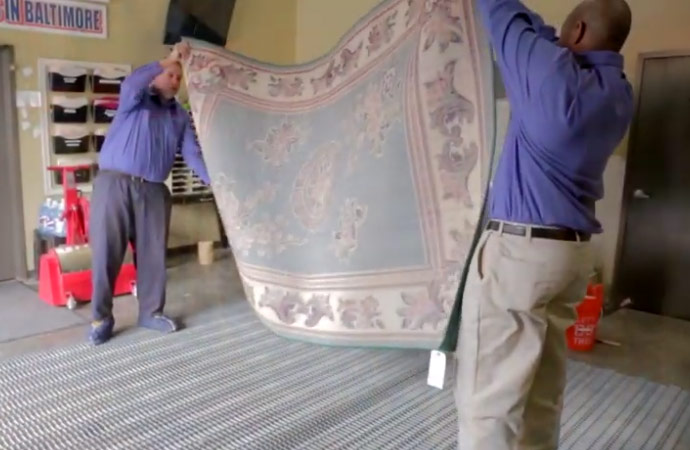 Award-Winning Cleaning Services
Thriving in Maryland Since 1986
State of the Art Facility
Cleaning and Rug Repair Specialists
Stain Removal Experts
No Extra Charge for Spot Removal
Truck-Mounted Equipment for Home Cleaning
Drop Off and Pick up Options Available
No Extra Cost for Spot Removal!
Proven Area Rug Cleaning Process by Hydro-Clean
Rugs are meant to be displayed in rooms where they are the main attraction. Your rug needs to be clean, stain-free, spotless, and polished to be worthy of such attention.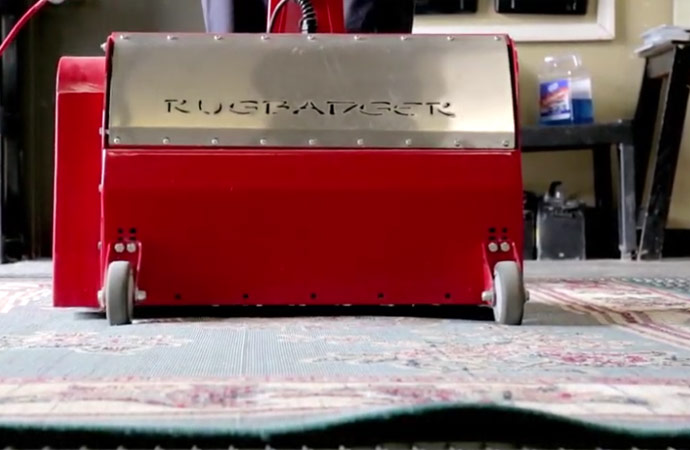 Extraction: Our specialists examine your rug's type and condition in your presence to determine its material, construction, and the effort that may be required to clean it. Thereafter, we explain the likely problems that may occur while cleaning the rug and the proposed methodology of cleaning to you.
Pre-Spray: Pre-spray the entire area to loosen dirt and bring it to the surface.
Hand Wash: Our experienced cleaners scrub your rug by using hand brushes that are specially designed to clean the corners and borders without damaging your rug's fabric. Manual cleaning allows us to concentrate on stained portions and remove them effectively.
Detergent & Duster: Our organic detergents are safe for your rug's dye while being extremely effective in stain removal. Once the detergent is applied to the surface, our hand-operated deep cleaning duster having long leather strips works its magic on your rug.
Detergent Rinse: In order to completely remove all the dirt from your rug, it's rinsed once more in the detergent. This step plays an essential role in the removal of all the remaining dirt from your rug.
Flat Spread Treatment: This is another labor-intensive step in which our team spades your rug to remove the pollutants that are still left inside the pores of your rug. This is done by our trained spade technicians, to remove the remaining dirt after the preceding steps.
Detergent & Finisher: We use the buffers as one of our final steps in cleaning as there may be some grime still left on the surface after the flat spade treatment. The fine brush bristles of the buffer help to eliminate a fine layer of filth from the surface.
Centrifuge Water Extraction: Our centrifugal rug wringer rotates at a high speed of around 2000 rpm removing almost 95% of the water from the rug in just a few minutes. It's one of the most effective and safest methods of water removal, as sun drying may cause fading to the color of your rug.
Brush Treatment: Manual brushing undertaken by experienced rug cleaners returns the disturbed fibers to their original positions. There's no single brush for all types of rugs. Our special brushes are selected to suit your rug's material and construction so that no damage is caused to your rug.
Drying Process: We use a specialized hot water extraction method that removes about 95% of water and allows most rugs to dry within 8-10 hours.
Final Vacuum: After the rug is completely dry, our cleaners carry out vacuuming of the rug with special rug vacuums. This step is essential as some dust may settle in the rug, during the final drying process. Once this step is over, your rug is packed and delivered to you, fresh and beautiful.
Allow Us to Clean Your Rug Using Effective Rug Cleaning Process
We use eco-friendly and specialized cleaning processes that set us apart from our competitors. Our certified cleaners utilize time-tested & proven practices to safely clean and remove stains from your rug without damaging it by any means. Enjoy our premium rug cleaning services in Bel Air, Laurel, Pasadena, Glenwood, and many more across Maryland. When you want your rug cleaned, give us a call at 410-505-7879 or click here to schedule your appointment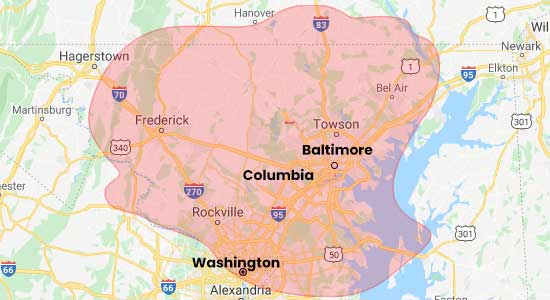 Request A Free Cleaning Estimate Today