Disinfection Process in Baltimore, Annapolis, & Columbia, MD
Hydro Clean's disinfection process is designed to make sure every corner of your property is clean and bacteria-free. Keeping your residential and commercial space clean is important to keep away allergens and mold, and with the outbreak of Covid-19, it has become more important than ever before to keep everything sterilized.
We use Vital Oxide disinfectant cleaner which has been approved by the EPA to be used for reducing SARS-CoV-2 (the virus responsible for causing Covid-19), as it kills pathogens that cause the illness. At Hydro-Clean, our disinfecting services will keep your home or office free of dust, contaminants, and viruses. Our commercial disinfection approach achieves the same result for churches, schools, restaurants, and more!
Call us when you need thorough sanitization of your property. In Baltimore, Columbia, Annapolis, Catonsville, and surrounding areas, we provide 24/7 emergency disinfection services.
Our Process to Disinfect Maryland Homes & Offices
We took our time and prepared ourselves for providing the most effective disinfecting service in and around Maryland. The Vital Oxide disinfectant is used in Victory Handheld Electrostatic Sprayer, this powerful combination successfully reduces viruses that might be present on high-touch surfaces. Traditional spraying methods are not very effective, the vital oxide sticks and wraps around surfaces it is being applied to.
Victory Electrostatic sprayer is a handheld cordless sprayer designed to reach all the pain points. The sprayer's adjustable nozzles make sure it is providing the best coverage without the inconvenience of dragging cords. Moreover, the powerful inbuilt battery makes it all the more effective.
Moreover, our trained and experienced crew makes sure the disinfecting process is done the right way.
Trust Hydro-Clean to Disinfect Your Property in Catonsville & Towson
When you need to disinfect your home or commercial property in Towson, Baltimore, Columbia, Annapolis, or Catonsville, you need to contact Hydro Clean online or give us a call at 410-505-7879. Some of the primary reasons to choose us include:
Our team of professionals is trained and certified by the IICRC
We use the finest chemicals and equipment for our services
We have 24/7 emergency service
We provide complete customer satisfaction and back this statement with a 'money-back' guarantee.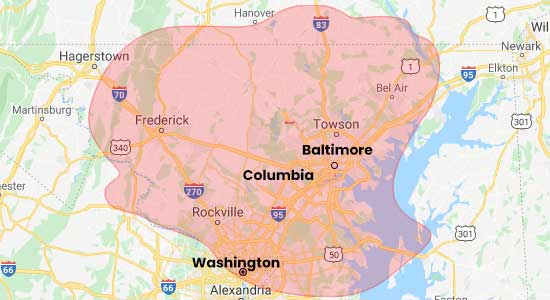 Request A Free Cleaning Estimate Today