Storm damage restoration in Baltimore & Maryland
A major storm can wreck your property leaving you distressed and worried. At a vulnerable time as such, keeping your family and yourself safe should be the first thing to take care of. Call for a professional water damage restoration company to take care of the rest. If you reside in Bowie, Havre De Grace, Baltimore, and other Maryland cities, you can rely on Hydro-Clean's 24-hour emergency storm damage restoration service. We have been thriving in the industry for years for our top-rated services.
Call us at 410-505-7879 and we will reach your property the soonest!
Click here for a fast, free estimate
Emergency Storm Damage Restoration
We understand that storm damage require immediate attention. Our team at Hydro-Clean are trained to work efficiently and quickly. Upon reaching your place,
We will assess the extent of the damage done and record everything by photographs that might be needed while filing for an insurance claim. Insurance work requires an extensive amount of paperwork and we can help you file one.
Next, we will extract the standing water with our heavy-duty vacuums. Flooded water from a storm can be contaminated and is a health hazard. Moreover, if not carefully extracted and dried, the moisture can give birth to mold in less than 42 hours.
If there are contents that are ruined beyond repair we can help discard those for you and dry-up drenched rugs and carpets as well.
Then using state-of-the-art dehumidifiers we will dry the entire place.
Depending on the condition of your property, we will take the last step. If there are broken windows, bent shingles, or fallen trees, our team will help clean everything and restore it to its pre-loss condition.
Stay Safe & Schedule an Appointment Anytime
Follow these guidelines to stay safe if a storm disaster strikes,
Leave the property immediately if there have been major structural damages.
Stay away from electric power lines.
After the storm subsides, use a flashlight to and turn off electric or gas lines.
Contact us right away for professional restoration service in Columbia and Maryland.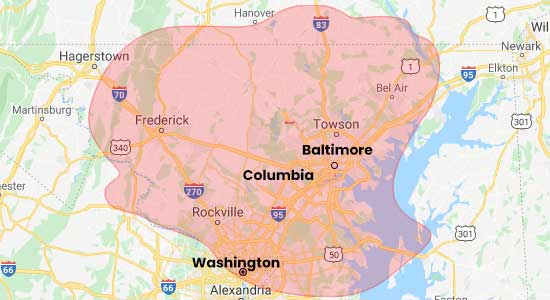 Request A Free Cleaning Estimate Today