Terra Cotta Tiles Cleaning in Baltimore & Columbia, MD
The attractive natural colors of terra cotta tile are making it a popular choice for property owners in Maryland. Terracotta tile is readily available and less expensive than many other forms of ceramic. Moreover, it is made from a strong and durable material that is naturally resistant to mold and bacteria. If installed and maintained the right way, these tiles can last for decades.
While a DIY cleaning method is great, you should consider getting your terra cotta tiles cleaned by professionals once in a while to maintain the shine. In Baltimore, Columbia, Washington D.C, and nearby areas, Hydro Clean provides the perfect tile cleaning service!
Click here or call us at 410-505-7879 to know more!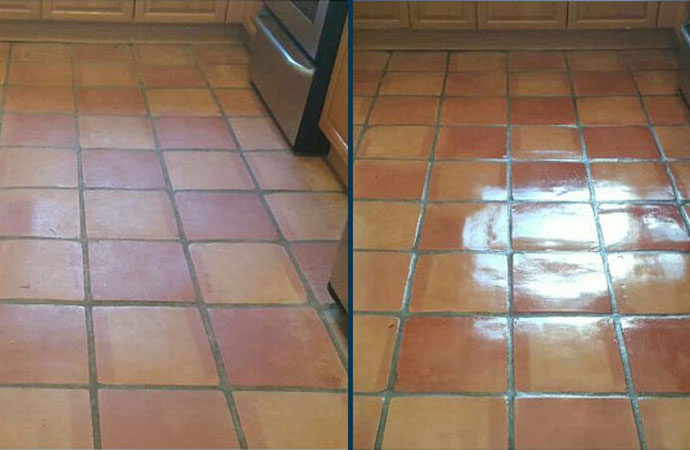 Professional Terra Cotta Tiles Cleaning and Polishing in MD
The earthy tones of terra cotta tiles add charm to kitchens, dining areas, entrances, patios, and other spaces, but the beauty of it reduces with time as dirt, grime, and grease accumulate on it over time. If you are worried about the lost luster and beauty of your floorings, consider getting it professionally cleaned before planning for a replacement. Our team at Hydro Clean is trained and experienced to bring back the beauty of all types of floorings, be it terra cotta, porcelain, or marble.
We begin with vacuuming off the dirt and dust from the floors. Next, using a combination of warm water, special cleaning agents, and a soft nylon brush, we remove stubborn stains. Then using state-of-the-art cleaners we clean the entire floor. Our heavy-duty cleaning does wonders to the dull-looking clay tiles and dirty grout lines! Once we are done cleaning, your terra cotta tiles will be as good as new!
Want our cleaning service right away? Give us a call and book an appointment with the best property restoration team in Maryland!
Request A Free Cleaning Estimate Today